Valletta Road, Qormi, Malta, QRM3616
Antifire Safety & Security is a company that will specialize in the supply and maintenance of Fire & Safety Equipment for the Marine industry.We have been established in June 2011 but backed with over 20 years of experience in this line of busines ...
Read More...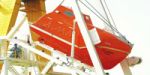 10 Giannou Kranidioti Street, Nicosia, Cyprus, 27406
AKV SEA VOLCANO LTD offering a full range of inspection services and tests for life boats and davits, in compliance with the new SOLAS Guideline introduced under IMO MSC./Circ.1206. Our higly qualified Service Engineers are holding accreditation from var ...
Read More...

28-F, Penjuru Close, Singapore, 609134
ASTRO Fire & Safety specialise in servicing and re-certification, supply and maintenance of :Fixed fire extinguishing systems;Portable/wheeled fire extinguishers;Refilling and pressure testing of cylinders;Fire detection / alarm systems;Breathing appa ...
Read More...
Blk 3015 Ubi Road 1, #03-244, SINGAPORE
Marine Safety, Life Saving, Fire Safety and Rescue EquipmentAnnual Inspection and Servicing of Lifeboats/Davits/On-Load Release SystemCalibration Gas & Breath AnalyzersMarine Supply and LogisticsRefilling of Scuba TanksTank Cleaning & Painting ...
Read More...

5269 Cleveland Street, Virginia, USA, VA 23462
Advance Safety Equipment Company was established in March of 2001. We are a safety supply distributor with over 225 years of combined experience between our customer service staff and outside sales force.  We are committed to providing you with an ar ...
Read More...