Hide map

9F-2 No279, Wenhua 2nd Rd, New Taipei, Taipei, Taiwan
Wireless Signal Jammers - Jammers4uJammers Blockers of Mobile Cell Phones GSM CDMA 3G 4G 5G LTE WiMax, RF Wireless, WiFi 2.4Ghz 5Ghz 3.5Ghz, Anti-Drone UAVs, RC IED Bombs, GPS GLONASS Tracking & locating devices, wireless Spy devices, VHF UHF Two-Way ...
Read More...

5269 Cleveland Street, Virginia, USA, VA 23462
Advance Safety Equipment Company was established in March of 2001. We are a safety supply distributor with over 225 years of combined experience between our customer service staff and outside sales force.  We are committed to providing you with an ar ...
Read More...

Saedding Ringvej 13, 6710 Esbjerg V, Denmark, 6710 Esbjerg V
VIKING is a market leader in maritime safety, providing and servicing essential safety equipment for passenger and cargo ships, offshore installations, fishing vessels, yachts, and defence and fire-fighting industries. Marine Evacuation Systems, Offshore ...
Read More...

Gouderakstraat 22, Rotterdam, Netherland, 3079 DB
With a total of 12 staff, Inglasco Group has established itself in the marine industry with a reputation of being a reliable and highly skilled company, both for owners and for classification societies.Inglasco Group's interest has now been divided into t ...
Read More...

68 Omirou Str, Nea Smyrni, Greece, 17121
Since the establishment of Reina Marine Ltd. in 2003, we have carried out thousands of vessel lifesaving and firefighting appliance inspections worldwide. In 2013, Reina Marine Ltd expanded its operation in the Far East area through a subsidiary company ...
Read More...

Artojo 7e, Klaipeda, Lithuania, 92105
Lifesaving appliances and firefighting equipment services:Firefighting system and equipment; Breathing apparatus and EEBD's;Immersion suits, chemical suits, lifejackets; Air and foam analysis.Accommodation ladders and Gangways service.Lifting appliances:C ...
Read More...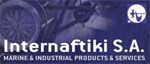 Alipedou 6, Piraeus, Greece, 18531
Internaftiki AEBE was inaugurated in 1975 near the Port of Piraeus. Since its foundation, the company has expanded rapidly in the field of marine and industrial products, by offering an entire range of service activities on ships and yacht machinery. All ...
Read More...

2 Rododafnis Str., Chalandri, GREECE, 15233
Our service engineers are naval architects or mechanical engineers and have been trained in the Marine Tokyo University for almost all the Japanese manufacturers of Lifeboats and Davits. We can perform life boats and davits thorough inspections and mainte ...
Read More...

Safety equipment. Manufacturers of EPIRB and radar transponders. From EPIRBs to AIS-based products to maritime radio and communications systems to a global service network, McMurdo has, for over 150 combined years, shaped the future of marine industry wit ...
Read More...

3 Gounari str, Piraeus, Greece, 18531
LALIZAS vision is to produce high quality products at competitive prices and distribute them in international markets through its well‐established distribution network. This vision, along with the care for the customers and the indispensable input of the& ...
Read More...